You are here
Back to top
Chasing Life: New Discoveries in the Search for Immortality to Help You Age Less Today (Paperback)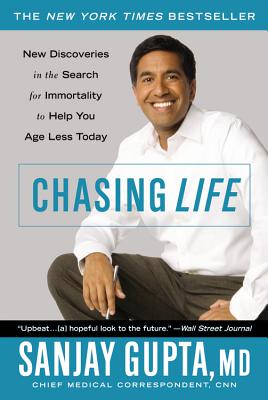 $16.00
Usually Ships in 1-5 Days
Description
---
For centuries, adventurers and scientists have pursued the dream of immortality. Today it appears it might actaully be a reality. This is
not
an anti-aging book. It's a groundbreaking guide to functionl aging--living longer than we ma y have ever thought possible. Practical immortality may now be within our grasps thanks to cutting-edge scientific research and amazing medical breakthroughs that are coming at such astonishing speed we can hardly keep up. In CHASING LIFE, Dr. Gupta blends dramatic accouts if amazing discoveries from around the world with essential advice on how you can apply them for optimal health and longevity. What Dr. Gupta has found is provacative and often counterintuitive. This life-changing book revolutionizes the way you think about aging--and reveals the secrets to helping you live a longer, healthier life for many years to come.
"Sanjay Gupta is at his best in CHASING LIFE, covering everything from illegal stem cells to the scientific edges of memory. To achieve your own version of immortality, you can simply 'page' Dr. Gupta by turning the first page of this groundbreaking new book." --Mehmet C. Oz, MD, coauthor of the
New York Times
bestsellers
You: The Owner's Manual
and
You: On a Diet
"Is it possible to have the exquisite combination, the wisdom of experience along with biology of youth? In his book, CHASING LIFE, Dr. Sanjay Gupta shows you how." --
Deepak Chopra, MD
, FACP, author of
Ageless Body, Timeless Mind
"Dr. Sanjay Gupta prescribes sensible, evidence-based advice for living a long and healthy life. He evaluates the latest scientific research on life extension, looks at anti-aging claims, and concludes that informed lifestyle choices are your best hope of maintaining good health as you age. Chasing Life is good medicine." --Andrew Weil, author of
Healthy Aging
"My friend Dr. Sanjay Gupta has written a book that makes sense when it comes to staying healthy, making important medical decisions and preserving quality of life. This book is probably the closest we'll get to a map to the fountain of youth." --Lance Armstrong, Cancer survivor, Seven-time Tour de France Champion and founder of the Lance Armstrong Foundation
About the Author
---
Sanjay Gupta, MD was a neurosurgeon at the University of Tennessee's Semmes-Murphy Clinic, and before that, the University of Michigan Medical Center. He became partner of the Great Lakes Brain and Spine Center Institute in 2000. In 1997 he was chosen as a White House fellow, one of only 15 fellows appointed, and served as special advisor to first lady Hillary Clinton.