You are here
Back to top
DIY Succulents: From Placecards to Wreaths, 35+ Ideas for Creative Projects with Succulents (Paperback)
Read "Ickabog" first chapter here (Coming Soon)
Curbside Pick Up & Delivery
We will deliver to your local home for free within 3 miles of our store (using Google Maps).
Special orders too! Outside of 3 miles books will be shipped via media mail for free with a $25 or more purchase, under $25 cost will be $3.99.
First and foremost Safety: We are very cautious about sanitation, contact & distancing.

Please Mask Up before coming in the store
We are providing 1 use gloves for your time in the store.
Notary hours: call before coming (408-778-6467)Store hours daily 9 to 5pm.Curbside Pick Up - Call before you come to give CC info or get a price to bring exact change.
Thank you for your support!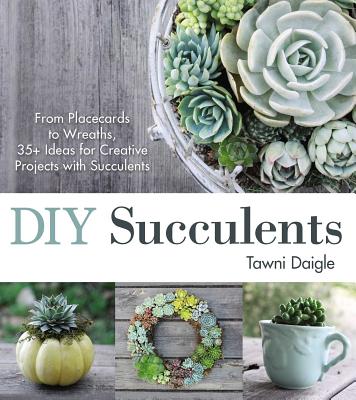 Description
---
As featured in
The Washington Post
Dig into dozens of stunning succulent creations!
Go beyond the garden to create succulent projects that take center stage in any space.
DIY Succulents
shows you how to use beautiful and resilient plants like echeveria, sedum, and graptopetalum to craft nature-inspired home decor like rustic tabletop centerpieces and breathtaking wall art. Each page offers details on selecting the right plants and containers for the project, assembling a gorgeous arrangement, and maintaining the garden as it grows. With step-by-step instructions, gardening tips, and dozens of ideas to choose from, anyone can create imaginative succulent crafts like:
Living Wreath
Birch Log Planter
Terrarium Necklace
Topiary Ball
Complete with photos and plenty of inspiration,
DIY Succulents
will help you add creativity, color, and personality to every room in your home.
About the Author
---
Tawni Daigle is one of the succulents mavens behind the blog Needles & Leaves (www.needlesandleaves.net). Her work has been featured by some of the world's most popular design forums, including Norway's Svenngarden, Apartment Therapy, and BHLDN's B-Inspired blog (Anthropologie's wedding brand).
Praise For…
---
"The photography throughout is stunning. Daigle has created a charming collection of projects that are repeatable and may serve as inspiration for heightened creativity. A delightful, elegant book highly recommended for all collections." --Library Journal, Starred Review

"Succulents are having a long moment in the sun. Now they are the subject of a new book, DIY Succulents, which shows how you can use these low maintenance, super cute plants in many ways. There are especially interesting ideas on using hardy succulents as decorations for the upcoming fall and winter holidays." --The Washington Post