You are here
Back to top
Harry Potter and the Cursed Child - Parts One & Two (Special Rehearsal Edition Script): The Official Script Book of the Original West End Production (Hardcover)
Read "Ickabog" first chapter here (Coming Soon)
Curbside Pick Up & Delivery
We will deliver to your local home for free within 3 miles of our store (using Google Maps).
Special orders too! Outside of 3 miles books will be shipped via media mail for free with a $25 or more purchase, under $25 cost will be $3.99.
First and foremost Safety: We are very cautious about sanitation, contact & distancing.

Please Mask Up before coming in the store
We are providing 1 use gloves for your time in the store.
Notary hours: call before coming (408-778-6467)Store hours daily 9 to 5pm.Curbside Pick Up - Call before you come to give CC info or get a price to bring exact change.
Thank you for your support!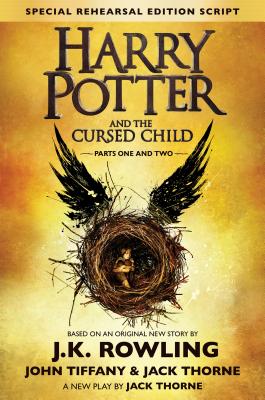 Email brad@mybooksmart.com or call 408-778-6467 for price.
Description
---
The Eighth Story. Nineteen Years Later.

Based on an original new story by J.K. Rowling, John Tiffany, and Jack Thorne, a new play by Jack Thorne, Harry Potter and the Cursed Child is the eighth story in the Harry Potter series and the first official Harry Potter story to be presented on stage. The play will receive its world premiere in London's West End on July 30, 2016.

It was always difficult being Harry Potter and it isn't much easier now that he is an overworked employee of the Ministry of Magic, a husband and father of three school-age children.

While Harry grapples with a past that refuses to stay where it belongs, his youngest son Albus must struggle with the weight of a family legacy he never wanted. As past and present fuse ominously, both father and son learn the uncomfortable truth: sometimes, darkness comes from unexpected places.

This Special Rehearsal Edition will be available to purchase until early 2017, after which a Definitive Edition of the script will go on sale.
About the Author
---
J.K. Rowling is the author of the seven Harry Potter novels, which have sold over 450 million copies and have been translated into 79 languages, and three companion books originally published for charity. She is also the author of The Casual Vacancy, a novel for adults published in 2012, and, under the pseudonym of Robert Galbraith, is the author of the Cormoran Strike crime series. J.K. Rowling is making her screenwriting debut and is a producer on the film Fantastic Beasts and Where to Find Them, a further extension of the Wizarding World, due for release in November 2016.

Jack Thorne writes for theatre, film, television and radio. His theatre credits include Hope and Let The Right One In, both directed by John Tiffany, The Solid Life of Sugarwater for the Graeae Theatre Company, Bunny for the Edinburgh Fringe Festival, Stacy for the Trafalgar Studios, 2nd May 1997 and When You Cure Me for the Bush. His adaptations include The Physicists for the Donmar Warehouse and Stuart: A Life Backwards for Hightide. On film his credits include War Book, A Long Way Down and The Scouting Book for Boys. For television his credits include The Last Panthers, Don't Take My Baby, This Is England, The Fades, Glue and Cast-Offs and the upcoming National Treasure. In 2012 he won BAFTAs for best series (The Fades) and best serial (This Is England 88).

John Tiffany directed Once for which he was the recipient of multiple awards both in the West End and on Broadway. As Associate Director of the Royal Court, his work includes The Twits, Hope and The Pass. He was the director of Let The Right One In for the National Theatre of Scotland, which transferred to the Royal Court, West End and St. Ann's Warehouse. His other work for the National Theatre of Scotland includes Macbeth (also Broadway), Enquirer, The Missing, Peter Pan, The House of Bernarda Alba, Transform Caithness: Hunter, Be Near Me, Nobody Will Ever Forgive Us, The Bacchae, Black Watch, for which he won the Olivier and Critics' Circle Best Director Awards, Elizabeth Gordon Quinn and Home: Glasgow. Other recent credits include The Glass Menagerie at A.R.T. and on Broadway and The Ambassador at BAM. Tiffany was Associate Director of the National Theatre of Scotland from 2005 to 2012, and was a Radcliffe Fellow at Harvard University in the 2010-2011 academic year.

 
Praise For…
---
Praise for Harry Potter and the Cursed Child, Parts I and II

* "Series fans can breathe easy knowing this play has been respectfully and lovingly wrought. Tensions thrum, spells fly… but at center stage, as always in the Potterverse, is the overriding importance of love and friendship, especially in the face of danger." -- Booklist, starred review