You are here
Back to top
Instant Pot Miracle: From Gourmet to Everyday, 175 Must-Have Recipes (Paperback)
Read "Ickabog" first chapter here (Coming Soon)
Curbside Pick Up & Delivery
We will deliver to your local home for free within 3 miles of our store (using Google Maps).
Special orders too! Outside of 3 miles books will be shipped via media mail for free with a $25 or more purchase, under $25 cost will be $3.99.
First and foremost Safety: We are very cautious about sanitation, contact & distancing.

Please Mask Up before coming in the store
We are providing 1 use gloves for your time in the store.
Notary hours: call before coming (408-778-6467)Store hours daily 9 to 5pm.Curbside Pick Up - Call before you come to give CC info or get a price to bring exact change.
Thank you for your support!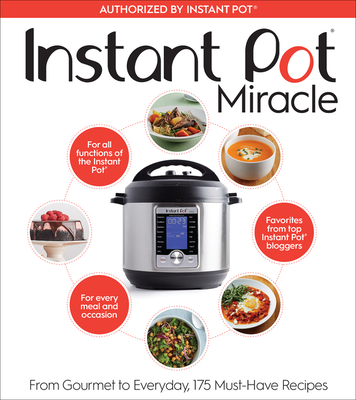 Description
---
Tasting Table calls the Instant Pot "the hottest kitchen tool since George Foreman's pint-size grill" and everyone from Ruth Reichl to top food bloggers rave about its efficiency, convenience, and affordability. Now, with this licensed cookbook—one of the most comprehensive published to date—you can discover exactly how much this miracle appliance can do.
This full-color cookbook features recipes for all the functions of the Instant Pot, from everyday staples to surprising new dishes. You'll find more than 175 recipes for everything from breakfast to dessert, including delicious soups and stews, vegetable mains and sides, jams and yogurts—even an entire cheesecake. This must-have cookbook is the perfect companion to the best-selling kitchen appliance to come along in decades.