You are here
Back to top
Tracers in the Dark: The Global Hunt for the Crime Lords of Cryptocurrency (Large Print / Paperback)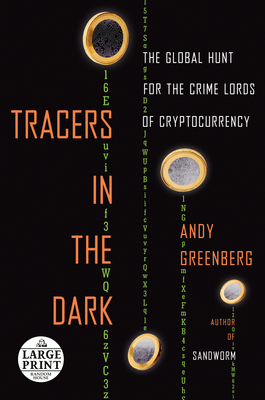 $35.00

Usually Ships in 1-5 Days
Description
---
From the award-winning author of Sandworm comes the propulsive story of a new breed of investigators who have cracked the Bitcoin blockchain, exposing once-anonymous realms of money, drugs, and violence. "I love the book… It reads like a thriller… These stories are amazing." (Michael Lewis)

Over the last decade, a single innovation has massively fueled digital black markets: cryptocurrency. Crime lords inhabiting lawless corners of the internet have operated more freely—whether in drug dealing, money laundering, or human trafficking—than their analog counterparts could have ever dreamed of. By transacting not in dollars or pounds but in currencies with anonymous ledgers, overseen by no government, beholden to no bankers, these black marketeers have sought to rob law enforcement of their chief method of cracking down on illicit finance: following the money.

But what if the centerpiece of this dark economy held a secret, fatal flaw? What if their currency wasn't so cryptic after all? An investigator using the right mixture of technical wizardry, financial forensics, and old-fashioned persistence could uncover an entire world of wrongdoing.

Tracers in the Dark is a story of crime and pursuit unlike any other. With unprecedented access to the major players in federal law enforcement and private industry, veteran cybersecurity reporter Andy Greenberg tells an astonishing saga of criminal empires built and destroyed. He introduces an IRS agent with a defiant streak, a Bitcoin-tracing Danish entrepreneur, and a colorful ensemble of hardboiled agents and prosecutors as they delve deep into the crypto-underworld. The result is a thrilling, globe-spanning story of dirty cops, drug bazaars, trafficking rings, and the biggest takedown of an online narcotics market in the history of the Internet.

Utterly of our time, Tracers in the Dark is a cat-and-mouse story and a tale of a technological one-upmanship. Filled with canny maneuvering and shocking twists, it answers a provocative question: How would some of the world's most brazen criminals behave if they were sure they could never get caught?
About the Author
---
Andy Greenberg is an award-winning senior writer for Wired, covering security, privacy, information freedom, and hacker culture. He's the author of the new book Tracers in the Dark: The Global Hunt for the Crime Lords of Cryptocurrency. His previous book Sandworm: A New Era of Cyberwar and the Hunt for the Kremlin's Most Dangerous Hackers, as well as excerpts from it published in Wired, won awards including a Gerald Loeb Award for International Reporting, a Sigma Delta Chi Award from the Society of Professional Journalists, and the Cornelius Ryan Citation for Excellence from the Overseas Press Club. Before coming to Wired, Greenberg worked as a senior reporter for Forbes magazine. He lives in Brooklyn with his wife, filmmaker Malika Zouhali-Worrall.
Praise For…
---
A NEW YORK TIMES EDITORS' CHOICE
 
"[Greenberg] deftly assembles a rogues' gallery of characters… [An] absorbing narrative… Each key section of the book—the Silk Road story; the dismantling of its successor, AlphaBay; the massive theft of Bitcoin from the Mt. Gox exchange; and, finally, the bust of the Welcome to Video child porn emporium—unfolds like a compact mystery."
—New York Times Book Review

"Immensely readable... Greenberg is known for his ability to explain complicated technology in a way anyone can understand, and he doesn't disappoint when he tackles crypto…. The whole smoky world of crypto starts to open up... [He] takes readers on a romp through some of the most infamous dark web takedowns in recent memory."
—Washington Post

"Greenberg sketches the evolution of a wholly new discipline in the surprisingly lively real-life police procedural [that] deftly teases out technical detail without slowing the narrative."
—Associated Press

"A pivotal story of the internet, the dark web and policing in the Digital Age. The book demonstrates in gripping, and sometimes thrilling detail, how law enforcement agencies such as the IRS Criminal Investigations unit have harnessed powerful emerging technology to trace cryptocurrency, which once seemed anonymous, right to the doorsteps of some of the world's most wanted criminals… Tracers in The Dark raises essential questions about the future of cryptocurrency."
—CyberScoop

"I love the book… It reads like a thriller… These stories are amazing."
—Michael Lewis, #1 New York Times bestselling author of The Big Short

"Andy Greenberg has turned a prescient lens on the investigators, technology, and budding industry that may just be the most powerful weapon we wield in the fight against cybercriminals and illicit nation states who mistakenly believed that the blockchain and cryptocurrency offered them cover. Greenberg tells the tale of this new weapon with his usual eye for technical accuracy and gift for storytelling. This is how the good guys win."
—Nicole Perlroth, New York Times bestselling author of This Is How They Tell Me the World Ends

"A gripping, stranger-than-fiction tale of how a small team of geeks and federal agents cracked what was once thought to be untraceable cryptocurrency. Page after page, Tracers in the Dark proves beyond a reasonable doubt that there is no better reporter covering the wild west of the internet than Andy Greenberg."
—Garrett M. Graff, New York Times bestselling author of The Only Plane in the Sky and Watergate

"A riveting non-fiction thriller from an exceptional reporter and storyteller. Tracers in the Dark shines a light on how cryptocurrency has been used to hide human rights abuses and trafficking by global crime syndicates—and how a team of crypto tracers learned to expose those schemes by finding a new way to follow the money."
—Alex Gibney, Academy Award-winning director of Going Clear and Zero Days

"A master-class in the tactics and countertactics of financial cyberwarfare, laid out in a tense, exciting technothriller."
—Cory Doctorow, New York Times bestselling author of Attack Surface and Red Team Blues

"An immersive look into cryptocurrency and crime... Greenberg's book is often thrilling, but it will also leave you with plenty to think about once you've finished it—making for the best kind of page turner."
—InsideHook

"The best cybercrime book of the last decade."
—Rick Howard, host of the Cyberwire Podcast

"I've been covering security for 22 years and I've read a whole pile of books on the subject... Tracers in the Dark is as good as it gets."
—Dennis Fisher, host of the Decipher Podcast

"A true, detailed, behind-the-scenes look at high-stakes police operations."
—Tech Crunch

"A must-read...I was completely enthralled."
—Laura Shin, host of the Unchained podcast and author of The Cryptopians

"In his exciting new book, [Greenberg] shows how cryptocurrency became a double-edged sword for the criminal sphere."
—L'Express (France)

"A probing investigation...that reads like a whodunit."
—Le Point (France)

"The thrilling tale of a technological race between surveillance authorities and cybercriminals...burning with topicality."
—L'Echo (France)

"Reads like a thriller...In this fine investigative book, corrupt cops, hardened crooks and Russian criminals intersect with intrigues pulled straight from a John LeCarré novel."
—Challenges (France)

"Fascinating and so enthralling...[A] highly recommended book."
—Library Journal (starred review)

"Greenberg examines in fascinating detail how criminals have employed technology for their nefarious ends...He brings to vivid life the assorted players, including the agents who cracked the crimes, those in law enforcement who succumbed to the allure of fast money on the dark web, and the private citizens who ushered in the golden age of cryptocurrency tracing. This is a must-have for the true crime shelf."
—Publishers Weekly (starred review)

"Spellbinding.... Written with great enthusiasm and with an ear for the dramatic turn of phrase...this is the kind of book that yanks the reader's eyes wide open.... Lively, highly relevant, and more than a little scary."
—Booklist

"A sinuous, eminently readable story of the darker corners of cyberspace...  Reminiscent in all the best ways of Clifford Stoll's Cuckoo's Egg, smoothly blending crime writing with matters of the deepest techno-geekery. An absorbing work of true crime.
—Kirkus Reviews (starred review)