You are here
Back to top
First Little Readers: Guided Reading Level A (Parent Pack): 25 Irresistible Books That Are Just the Right Level for Beginning Readers (Paperback)
Read "Ickabog" first chapter here (Coming Soon)
Curbside Pick Up & Delivery
We will deliver to your local home for free within 3 miles of our store (using Google Maps).
Special orders too! Outside of 3 miles books will be shipped via media mail for free with a $25 or more purchase, under $25 cost will be $3.99.
First and foremost Safety: We are very cautious about sanitation, contact & distancing.

Please Mask Up before coming in the store
We are providing 1 use gloves for your time in the store.
Notary hours: call before coming (408-778-6467)Store hours daily 9 to 5pm.Curbside Pick Up - Call before you come to give CC info or get a price to bring exact change.
Thank you for your support!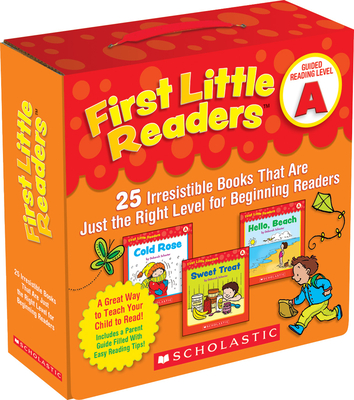 $20.99
Usually Ships in 1-5 Days
Description
---
Jumpstart reading success with this big collection of motivating storybooks correlated with Guided Reading Level A. Most pages of these full-color storybooks feature just one line of simple, repetitive text to help children learn to read with ease and confidence. Includes a tip-filled parent guide. A great value!
Includes these 25 titles:
1. Hello, Beach
2. What Can I See?
3. Cold Rose
4. Birthday Surprise
5. Fun with Mud
6. I Like School!
7. What is for Supper?
8. Fun at the Playground
9. Look What I Found!
10. What Shines?
11. Bubbles
12. What Do I Need?
13. Where is Petey?
14. HIDE AND SEEK
15. HATS, HATS, HATS
16. SHAPES FOR LUNCH
17. WINTER IS HERE
18. WHAT IS READ
19. I LIKE STRIPES
20. WHEN NIGHT COMES
21. SWEET TREAT
22. I CAN DRAW!
23. ALMOST SPRING
24. HURRY UP! HURRY UP!
25. CLASS PETS
Includes
• 25 full color, 8-page books
• 4-page parent guide
• Sturdy storage box
About the Author
---
Deborah Schecter is a writer and editor of books for educators and children. Some of her previous Scholastic titles include Follow-the-Directions Art: Nursery Rhymes, Follow-the-Directions: Easy Origami, Teaching Reading and Writing With Nursery Rhymes, Sight Word Manipulatives for Reading Success, and My First Little Readers: Level A.