You are here
Back to top
Just Jessie: My Guide to Love, Life, Family, and Food (Paperback)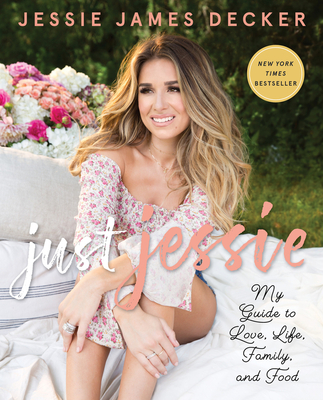 Description
---
New York Times bestseller!
From popular country music sensation and reality TV star Jessie James Decker (and wife of former NFL player Eric Decker) comes this gorgeously illustrated and highly inspiring lifestyle book fans have been clamoring for—featuring delectable family recipes, amazing fashion tips, and practical dating secrets.
Whether she is belting out one of her number one hit country songs, cheering on her NFL-star husband in the stands, working on her fashion label, Kittenish, or making dinner for her hubby and three children, Jessie James Decker is constantly on the move. For years she has been performing and singing for fans, while also bringing people into her life through her hit E! show, Eric & Jessie, and Instagram, where she posts about family, food, and whatever else happens to be on her mind. Now, in Just Jessie, she invites you into her home, her marriage, and her kitchen like never before, sharing the stories that have mattered the most and the secrets of how she balances everything with a smile—and often a forkful of comfort food to go along.
From following her childhood music dreams, to her struggles with bullying, to finding her soul mate, Jessie doesn't hold anything back in this exclusive peek into her life, going behind the scenes of the best and the hardest moments and providing the lessons to help you survive yours as well. With the honesty and humor that have made her one of the most supportive voices out there, she offers warm, practical advice about dating, decor, fashion, beauty, parenting, fitness, keeping romance alive—and so much more. In addition, Just Jessie features fifteen of her favorite go-to recipes, going step by step through her most Instagrammable and delicious dishes.
Whether at home or on the red carpet, Jessie always finds a way to make it work—and does so with style and charm. Gorgeously illustrated with never-before-seen childhood photos and original photography, Just Jessie is the essential guide to living life the way it works for Jessie, inspiring your dreams as you learn how Jessie made hers a reality.
About the Author
---
Singer, songwriter, TV personality, fashion designer, beauty and lifestyle influencer/entrepreneur, and New York Times bestselling author, Jessie James Decker has emerged as a multi-platform juggernaut juggling fashion brands like her personally designed Kittenish line with two retail stores and growing, and popular boot line, along with her television hosting duties. Signed to Warner Music Nashville, Jessie's passion for music has made the multi-talented artist one of music's true breakout firebrands. The singer's authentic style immediately captivated listeners everywhere on her 2009 self-titled debut. She continued to keep it real with her second studio album, 2017's Southern Girl City Lights, which debuted at #1 on Billboard's Top Country Albums chart. Jessie lives with her husband, retired NFL player Eric Decker, and their three children, in Nashville, Tennessee.